This is part two of an ongoing collection of Walks around North West Highlands of Scotland.
In recent years some of the local estates and forestry commission have been investing a great deal of time and money to help improve an ever increasing number of good standard paths and tracks.  So now there are a quite a number of walks with varying terrain and difficulty all on our doorstep and I hope to showcase these all in the coming months.
WALK 2 – RIVER BROOM WALK

One day last week after the snow arrived we had a blue sky day so I took the opportunity to do this walk with my 11 month old son in his backpack carrier.  It is a very pleasing walk and even in the depths of winter we were well rewarded with nice views, the delightful sounds of the river gurgling away and even watched a dipper playing by the rivers edge.  The walk itself is very straightforward and a fairly easy grade.  It is around 5km, 144m ascent and took us 1hr 24mins which included taking lots of pictures and dipper watching.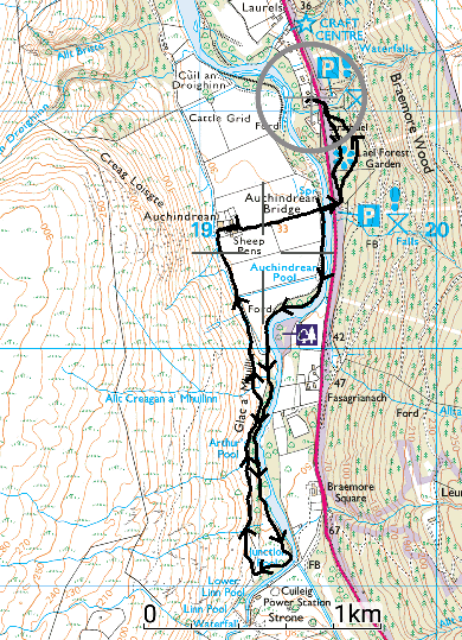 As with most of the walks which start from Forest Way it begins with a stroll through the enchanting Lael Forest Gardens.  Here you will find an abundance of wildlife, many birds and maybe even a red squirrel if you keep your eyes peeled.  Once you reach the south car park of the gardens head across the A835 main road and over the Auchindrean Bridge.  This bridge was built by the former owner of Braemore estate back in the late 1800s.  He was chief engineer of the famous Forth Bridge and the Auchindrean Bridge has a similar look to certain sections of the famous bridge.
Once over the bridge turn immediately left where you will see a sign for "Auchindrean Path".  The good standard path follows the banks of the River Broom with delightful charm and great views of the surrounding hills.  Keep on the path ignoring any gates and you will eventually come to another sign for 'Cuileag Path' which you continue on until the path ends near 'Junction Pool' and you join a landrover track and large turning area.  Ignore the second sign for "Cuileag Path" as this take you onto the gorge walk which is an option but is more detailed in another Walk description.  To head back just follow the landrover track back to Auchindrean farm and back across the bridge to where you started.
Below I have detailed some of the pictures we took along the way.